Lesson 1 -- VISIT TO HEADQUARTERS OF THE CITIZENS FOR CONSERVATION, BARRINGTON, ILLINOIS
Dear Friends of SGI,
As Executive Director of a new but rapidly growing conservation organization, one of the most frequently asked questions that I get is, "how can you conserve Southeastern grasslands when most types have disappeared by more than 90 percent?" My answer a few years ago would have emphasized the need for increased state and federal funding to provide additional resources for grassland conservation, and heavy investments from philanthropic foundations and corporations. While each of those aspects certainly needs to be a major ingredient to the solution, I now realize that there is a critical piece that has been missing.
After reading Stephen Packard and Cornelia Mutel's The Tallgrass Restoration Handbook, in which they discuss techniques for high-quality grassland restoration efforts within the Midwestern tallgrass prairies and savannas, I realized that the successful approaches being used to restore these imperiled habitats in Chicago and other parts of the Midwest are ones that are rarely, if ever, being used in the Southeast. I got in touch with conservationist Justin Pepper, Director of the Chicago-based Bobolink Foundation, and he offered to give me a tour of some of Chicago's finest grassland restorations.
My experience in Chicago came at a critical time soon after Theo Witsell (SGI's Director of Research) and I co-founded the Southeastern Grasslands Initiative (SGI), and were in our first year of developing its foundation and vision. Join me below as I share the five lessons learned from that incredible 2-day trip and how those lessons fundamentally changed SGI's approach and vision for conserving and restoring what Dr. Reed Noss (SGI's Chief Science Advisor) has termed the "Forgotten Grasslands of the South" in his 2013 book published by Island Press.
For individual parts of the series click below, but be sure not to miss a part:
Part 1 - Community-led conservation is the way of the future
Part 2 - Bringing Chicago-style conservation to the southeastern U.S.
Part 3 - If we rebuild them, they will come
Part 4 - Urban vs. Wild, either will work just fine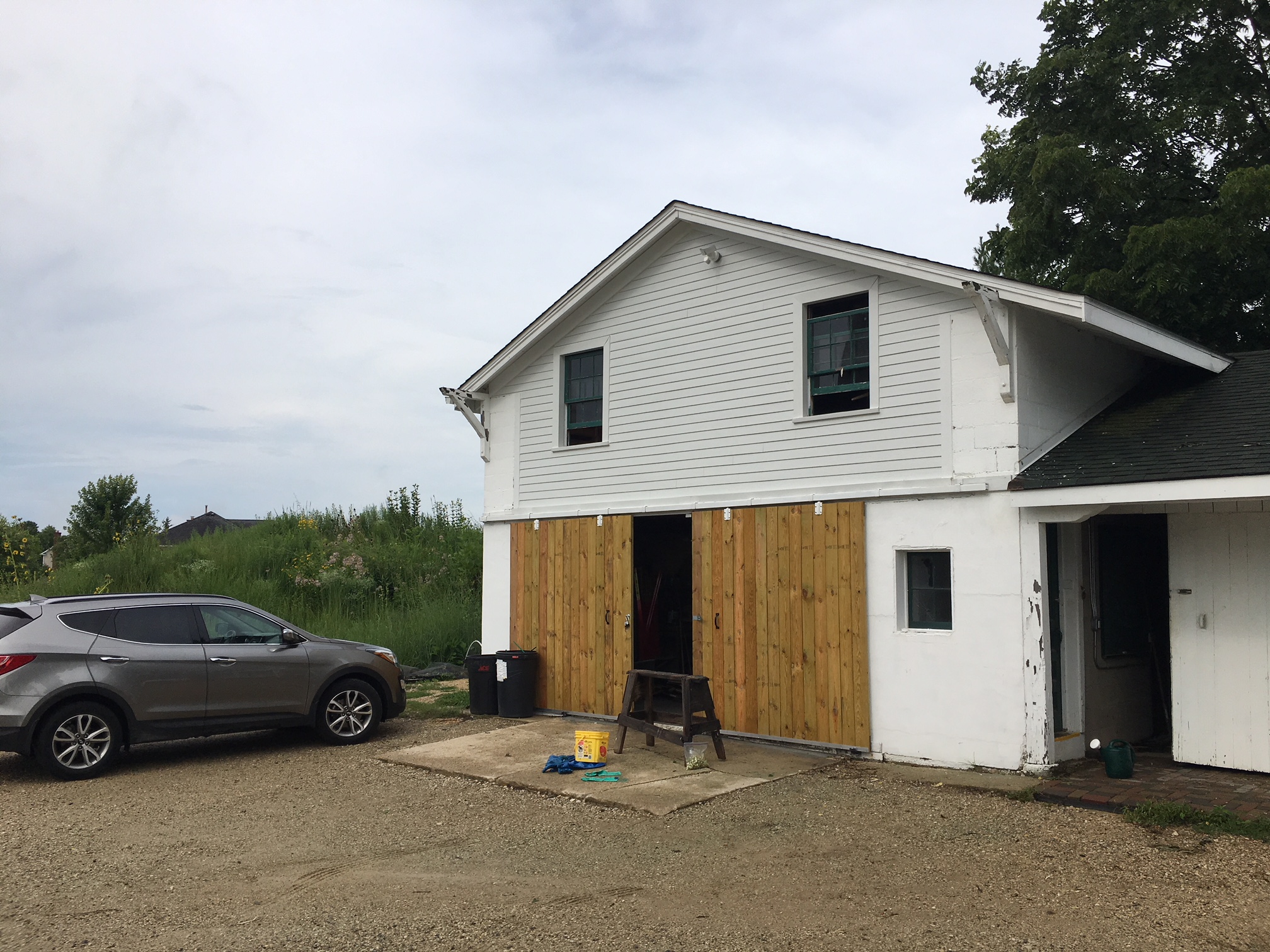 Lesson 1. Community-led Conservation is the way of the future
Community-led conservation can be a major driving force in rebuilding our lost grassland ecosystems. Within each community, strong leadership and a base of operations are essential. SGI's mission is to replicate this Chicago model in dozens of communities across our 23 state focal area. The power of the people knows no bounds.
On my first day in town, Justin invited me to participate in a morning work day with numerous volunteers affiliated with The Citizens for Conservation (CFC) (https://citizensforconservation.org/), a small, non-profit organization based in the northwest Chicago suburb of Barrington. Check out their Facebook page https://www.facebook.com/CFCBarrington/ and you'll see that they are not just about conservation, but rather their approach is inherently stepped in community building through education, outreach, and experiential learning.
I met Justin at a small barn bustling with a surprising amount of activity for a Saturday morning. Alongside him was Tom Vanderpoel, who had been a volunteer for CFC for a few decades and had worked essentially full-time hours for many years. His tall frame and congenial personality immediately garnered my respect and it was clear he was a leader. I hung on to his every word.
Tom led us into the barn, which, along with a small house next door, served as the headquarters for the CFC. The lower floor was filled with shovels, rakes, tarps, buckets and more. Up in the loft he showed us wooden drying racks where volunteers had sorted seed-heads from dozens of species of recently collected prairie wildflowers and grasses. "This is the seed-processing area," Tom said as he pointed to charts on the wall that had lists of prairie species and ranges of dates showing when each species should be collected and how their seeds needed to be cleaned.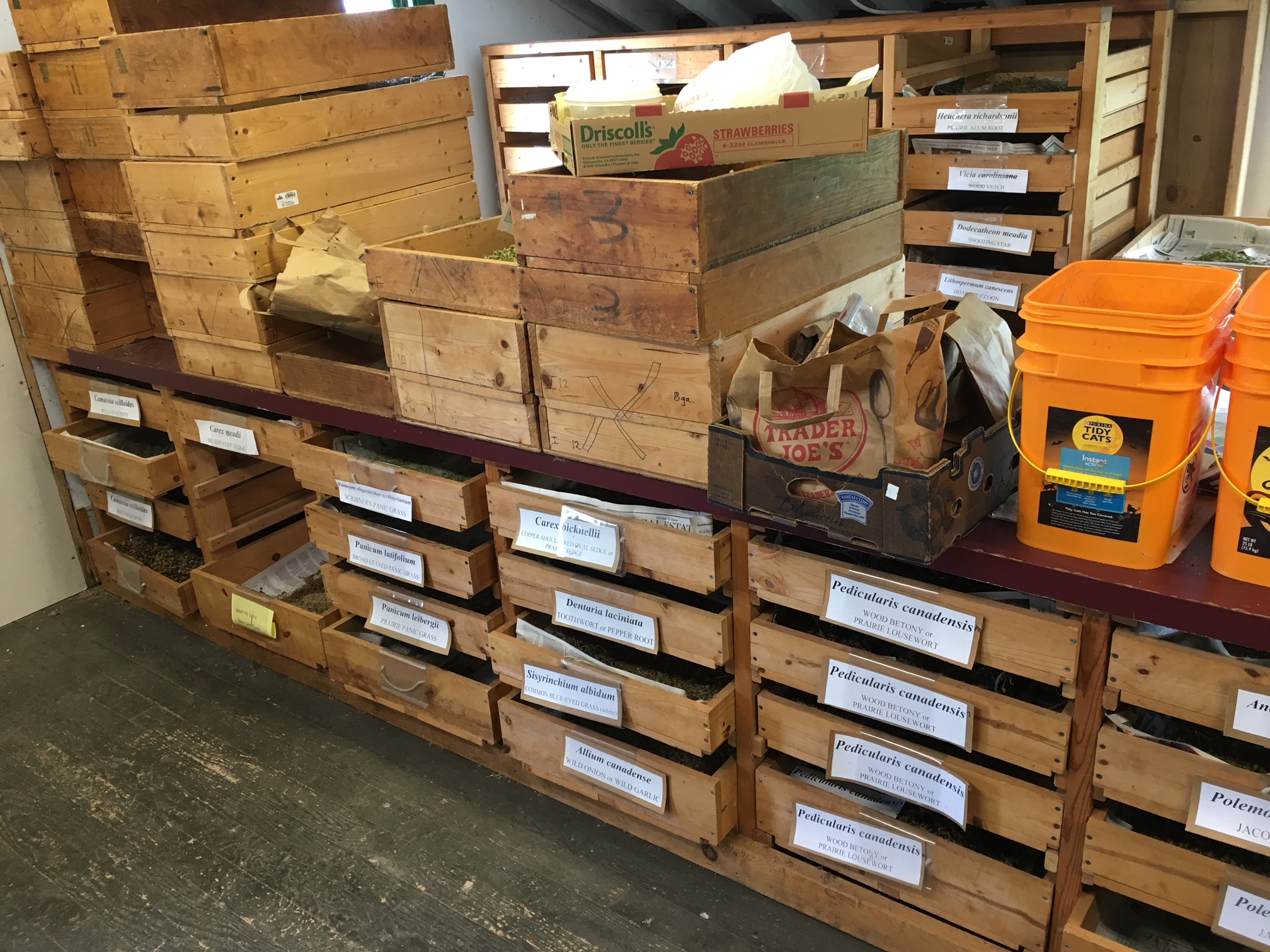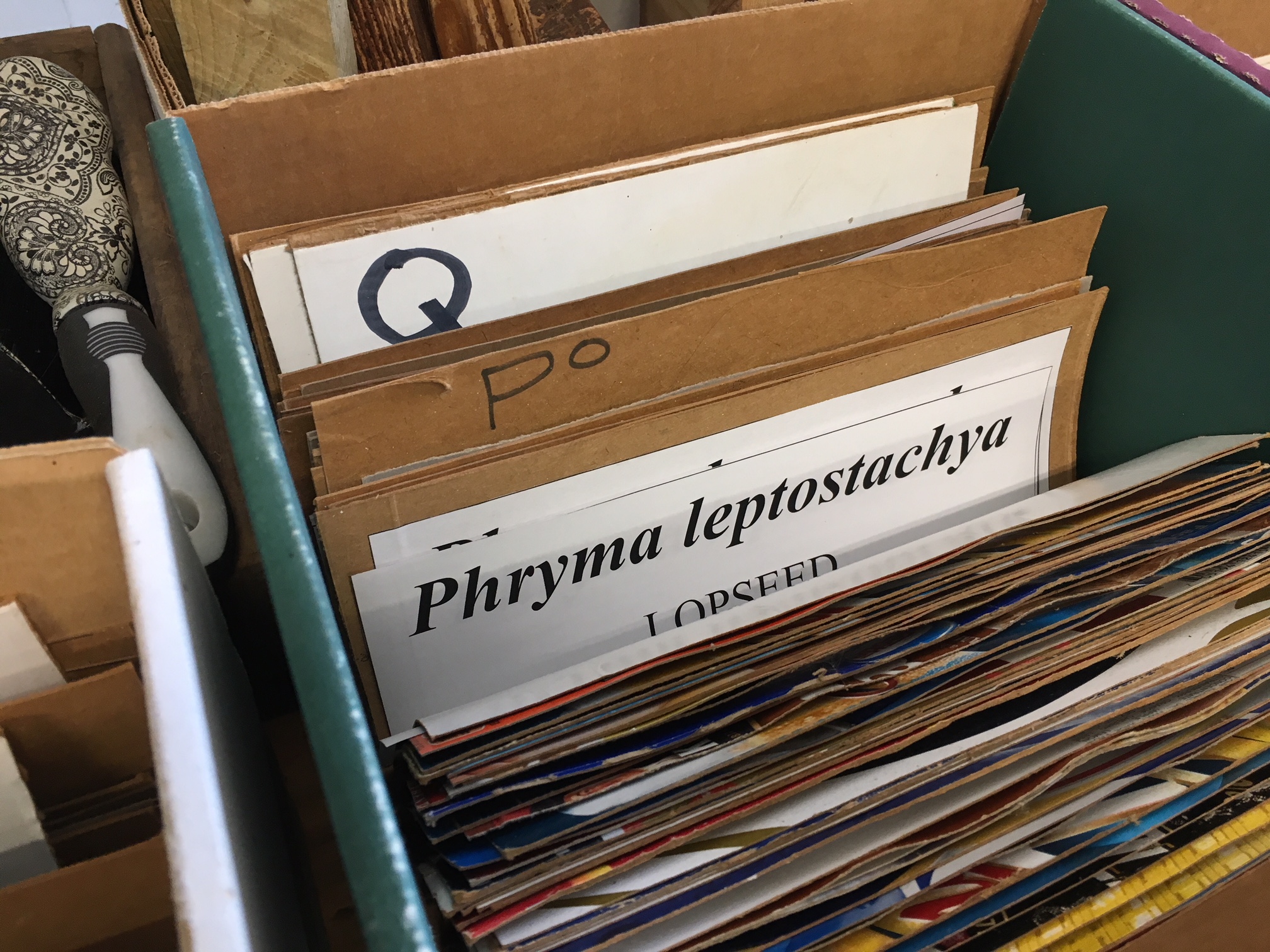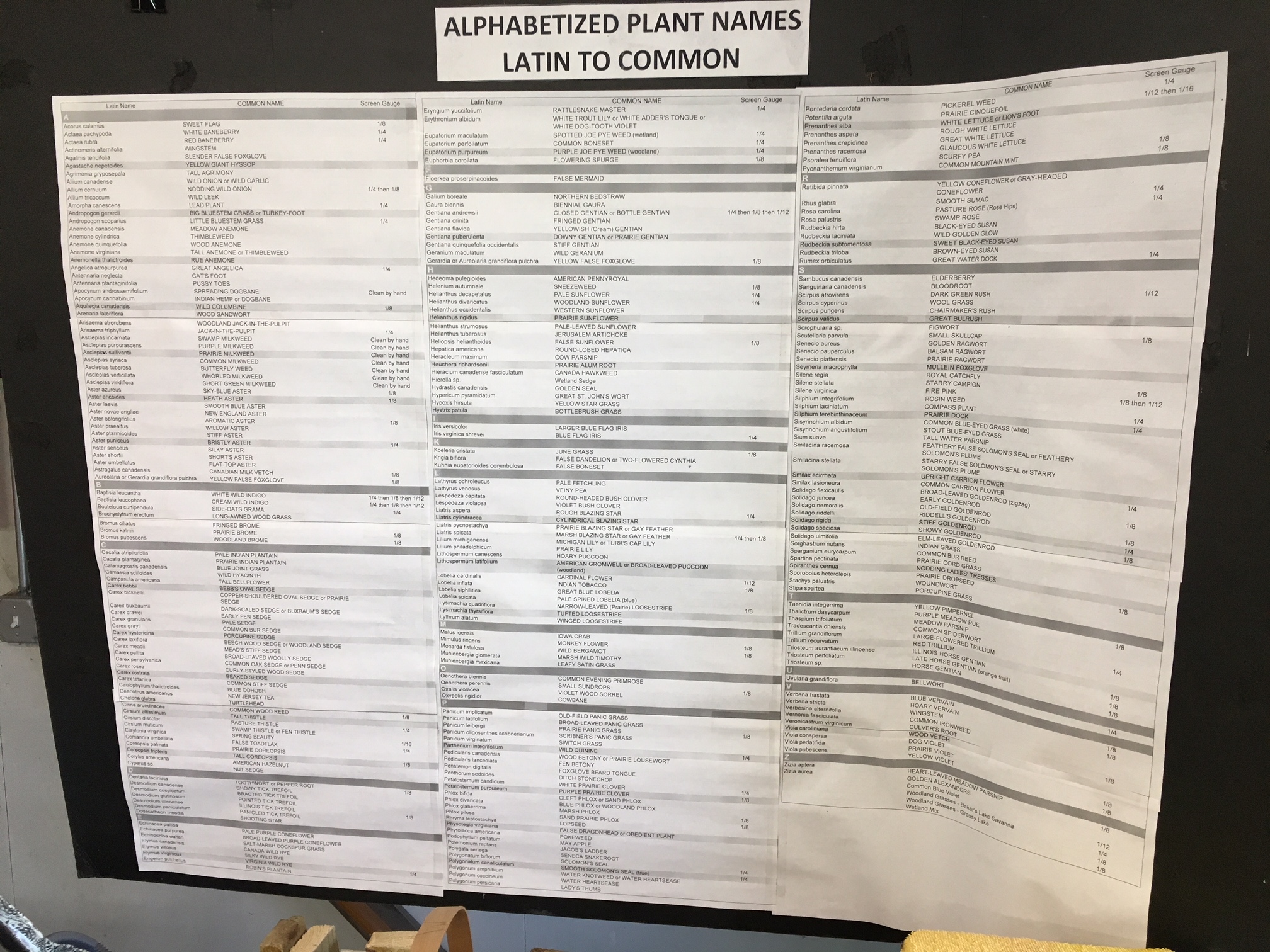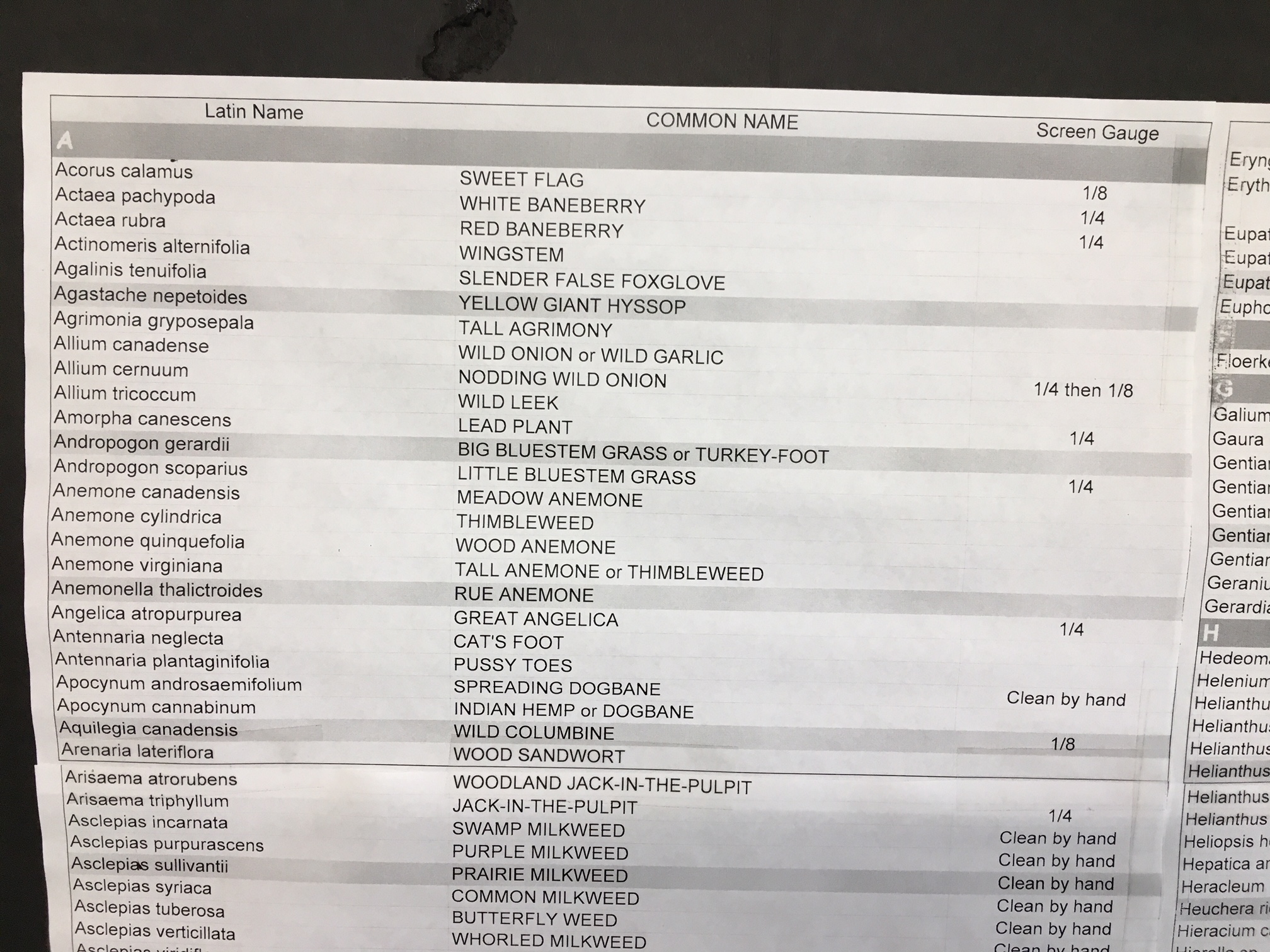 He added, "our teams of volunteers go out and collect seeds from hundreds of native species from local remnants or from our own propagation beds and bring them back here for processing." This procedure entails removing excess sticks, leaves, insects, and other debris by hand to get the seeds as clean as possible.
Tom and Justin then led the way downstairs to the propagation beds outside, where they were growing prairie wildflowers, grasses, and wetland sedges and rushes in over a dozen raised propagation beds. Each bed was lined with railroad timbers and filled with various soil mixtures. A sand mixture was used for species that typically grow in local sand savannas whereas other beds were lined with plastic and filled with water to hold species that grow in wet prairies and marshes.
In some beds the plants were growing in stratified arrays with tall species such as Tall Coreopsis (Coreopsis tripteris), New England Aster (Symphyotrichum novae-angliae), and Missouri Ironweed (Vernonia missurica) protruding above White Wild Indigo (Baptisia alba var. macrophylla) and Rattlesnake Master (Eryngium yuccifolium). Below these tall- and mid-statured plants, short species such as Yellow Flax (Linum medium var. texanum) and Lousewort (Pedicularis canadensis) were growing, alongside small panic grasses (Dichanthelium leibergii) and sedges (Carex glaucodea). The beds were designed such that volunteers could walk around them easily, reaching and harvesting various species by hand, similar to the way one picks berries.
Tom explained that CFC's army of volunteers work throughout the year, logging hundreds of man-hours, continually harvesting seed from the raised beds and collecting from nearby prairie remnants [they also do myriad other tasks]. These seeds are harvested mostly by hand and some with the aid of mechanical harvesters. Once brought back they are spread on tarps and trays in the barn and stored for a period of time in dry, low-humidity conditions in the loft. Some that are wild-collected in relatively small amounts are brought back and sowed in the propagation beds to help increase their numbers.
In the late fall and winter, CFC volunteers gather for mixing parties during which hundreds of pounds of seed collected throughout the year are mixed into more than a dozen specially-designed seed mixes, each containing dozens or in some cases 100+ species. They have mixes developed for dry sand prairies in full sun, wet prairie swales, partially-shaded sites under semi-open oak canopies of woodlands/savannas, and rocky sloping grasslands. In some Midwestern regions, such as Indiana's Kankakee Sands Preserve, these specially designed, high-diversity, end-of-year seed mixes can yield hundreds of millions of seeds and chaff weighing in excess of 1-2 tons. Although the CFC's seed mixes are smaller, they are still super diverse. When applied to restoration sites, these seeds help to swamp out competing weed seeds and greatly expedite the restoration process.
Lesson 1: The takeaway lessons from the morning visit to CFC's headquarters revealed the importance of grassroots conservation efforts. Such efforts need to be community-based, but it is also important to have a home base where diverse groups of people can gather to work together, to receive training, and to be with like-minded people. It is important to note that this base of operations is more than just a place to store materials or as a training facility, but it is essentially a community center, a place where multiple generations can work side by side, from ages 9 to 90, and where people of different educational and ethnic backgrounds can come together for a common goal that is vital to building healthy communities.