Dear Friends of SGI,
As Executive Director of a new but rapidly growing conservation organization, one of the most frequently asked questions that I get is, "how can you conserve Southeastern grasslands when most types have disappeared by more than 90 percent?" My answer a few years ago would have emphasized the need for increased state and federal funding to provide additional resources for grassland conservation, and heavy investments from philanthropic foundations and corporations. While each of those aspects certainly needs to be a major ingredient to the solution, I now realize that there is a critical piece that has been missing.
After reading Stephen Packard and Cornelia Mutel's The Tallgrass Restoration Handbook, in which they discuss techniques for high-quality grassland restoration efforts within the Midwestern tallgrass prairies and savannas, I realized that the successful approaches being used to restore these imperiled habitats in Chicago and other parts of the Midwest are ones that are rarely, if ever, being used in the Southeast. I got in touch with conservationist Justin Pepper, Director of the Chicago-based Bobolink Foundation, and he offered to give me a tour of some of Chicago's finest grassland restorations.
My experience in Chicago came at a critical time soon after Theo Witsell (SGI's Director of Research) and I co-founded the Southeastern Grasslands Initiative (SGI), and were in our first year of developing its foundation and vision. Join me below as I share the five lessons learned from that incredible 2-day trip and how those lessons fundamentally changed SGI's approach and vision for conserving and restoring what Dr. Reed Noss (SGI's Chief Science Advisor) has termed the "Forgotten Grasslands of the South" in his 2013 book published by Island Press.
For individual parts of the series click below, but be sure not to miss a part:
Part 1 - Community-led conservation is the way of the future
Part 2 - Bringing Chicago-style conservation to the southeastern U.S.
Part 3 - If we rebuild them, they will come
Part 4 - Urban vs. wild, either will work just fine
Part 1 of 6 - community-led conservation is the way of the future
visit to headquarters of the citizens for conservation, barrington, Illinois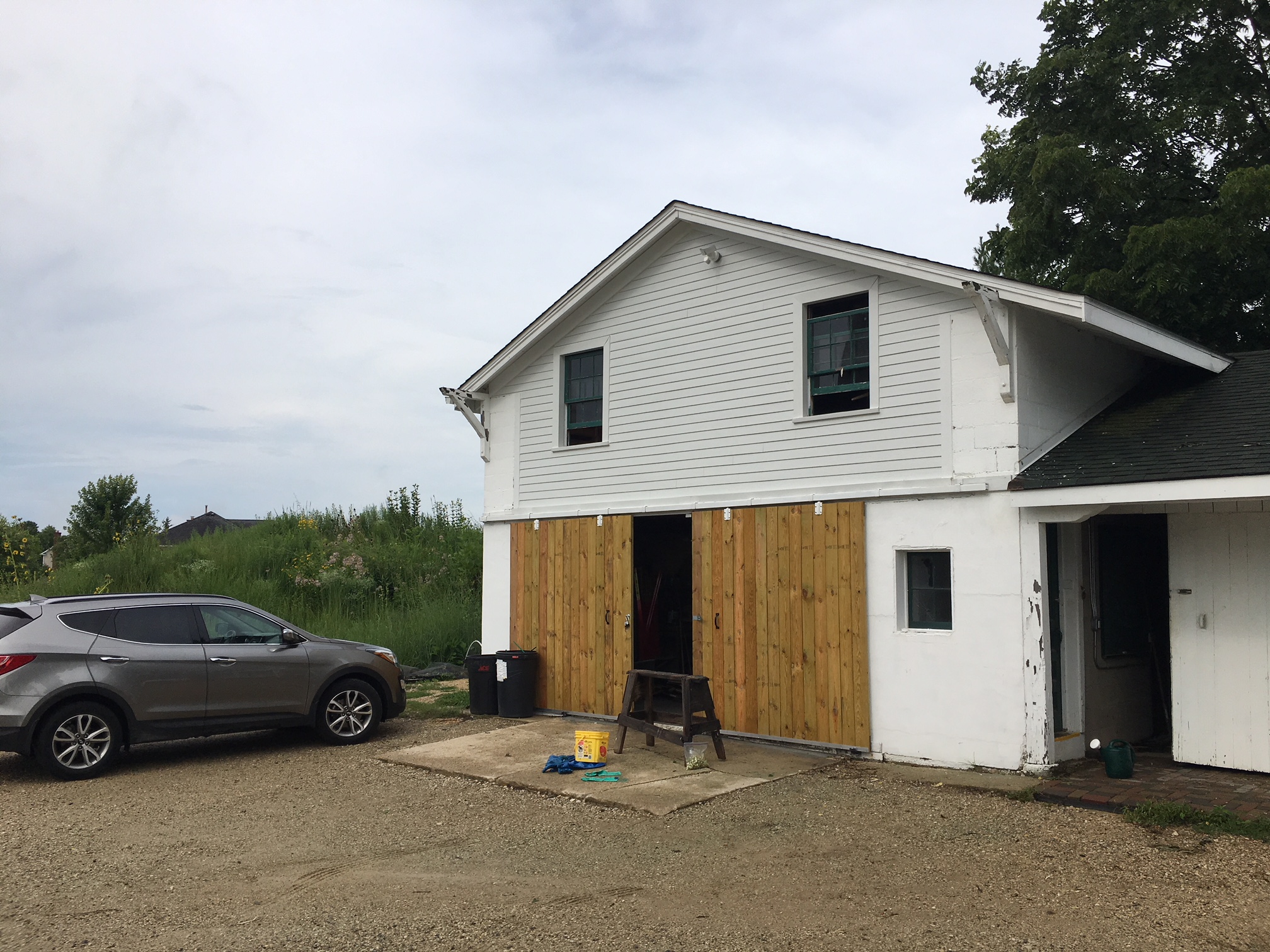 Lesson 1. Community-led Conservation is the way of the future
Community-led conservation can be a major driving force in rebuilding our lost grassland ecosystems. Within each community, strong leadership and a base of operations are essential. SGI's mission is to replicate this Chicago model in dozens of communities across our 23 state focal area. The power of the people knows no bounds.
On my first day in town, Justin invited me to participate in a morning work day with numerous volunteers affiliated with The Citizens for Conservation (CFC) (https://citizensforconservation.org/), a small, non-profit organization based in the northwest Chicago suburb of Barrington. Check out their Facebook page https://www.facebook.com/CFCBarrington/ and you'll see that they are not just about conservation, but rather their approach is inherently stepped in community building through education, outreach, and experiential learning.
I met Justin at a small barn bustling with a surprising amount of activity for a Saturday morning. Alongside him was Tom Vanderpoel, who had been a volunteer for CFC for a few decades and had worked essentially full-time hours for many years. His tall frame and congenial personality immediately garnered my respect and it was clear he was a leader. I hung on to his every word.
Tom led us into the barn, which, along with a small house next door, served as the headquarters for the CFC. The lower floor was filled with shovels, rakes, tarps, buckets and more. Up in the loft he showed us wooden drying racks where volunteers had sorted seed-heads from dozens of species of recently collected prairie wildflowers and grasses. "This is the seed-processing area," Tom said as he pointed to charts on the wall that had lists of prairie species and ranges of dates showing when each species should be collected and how their seeds needed to be cleaned.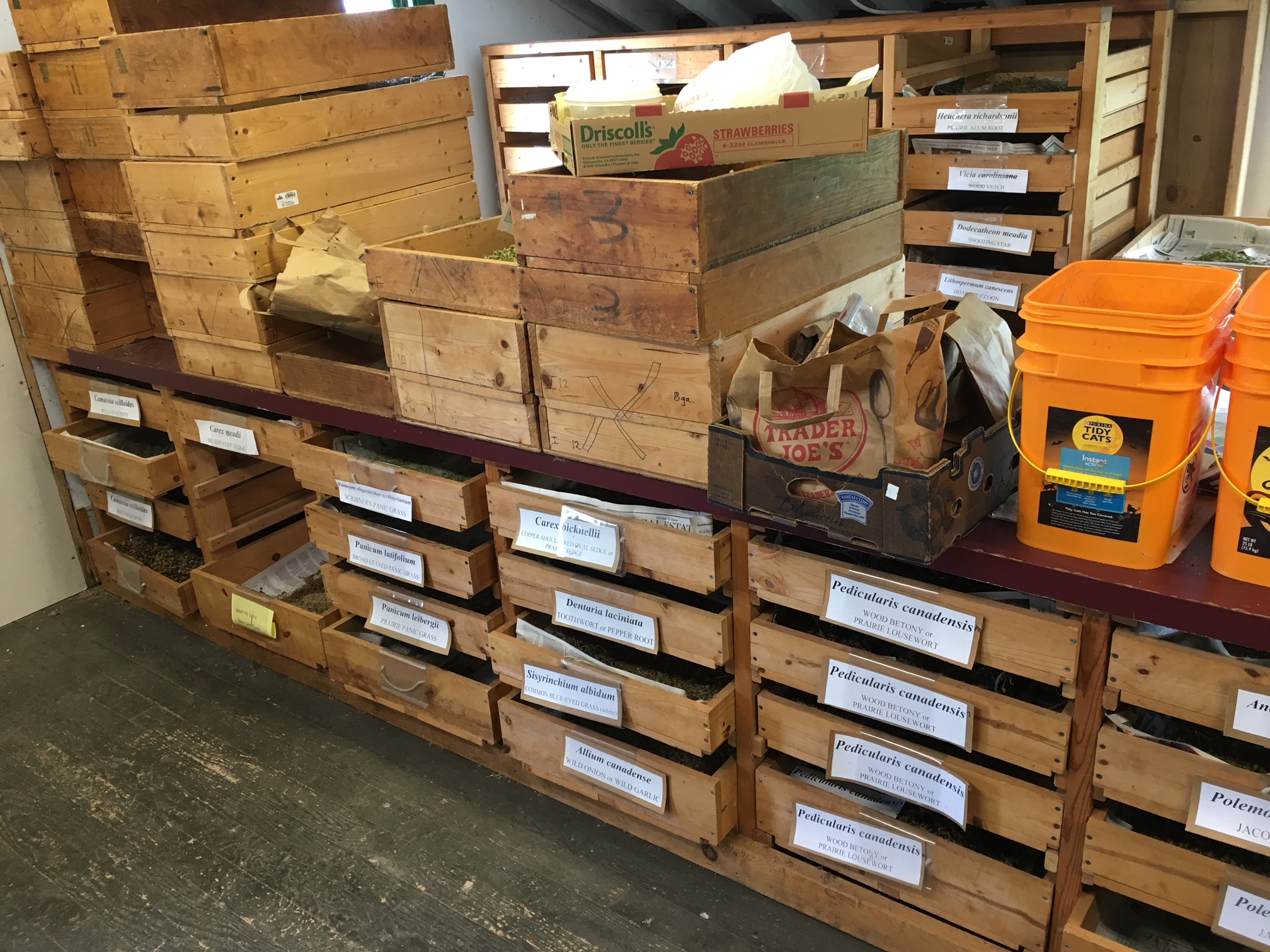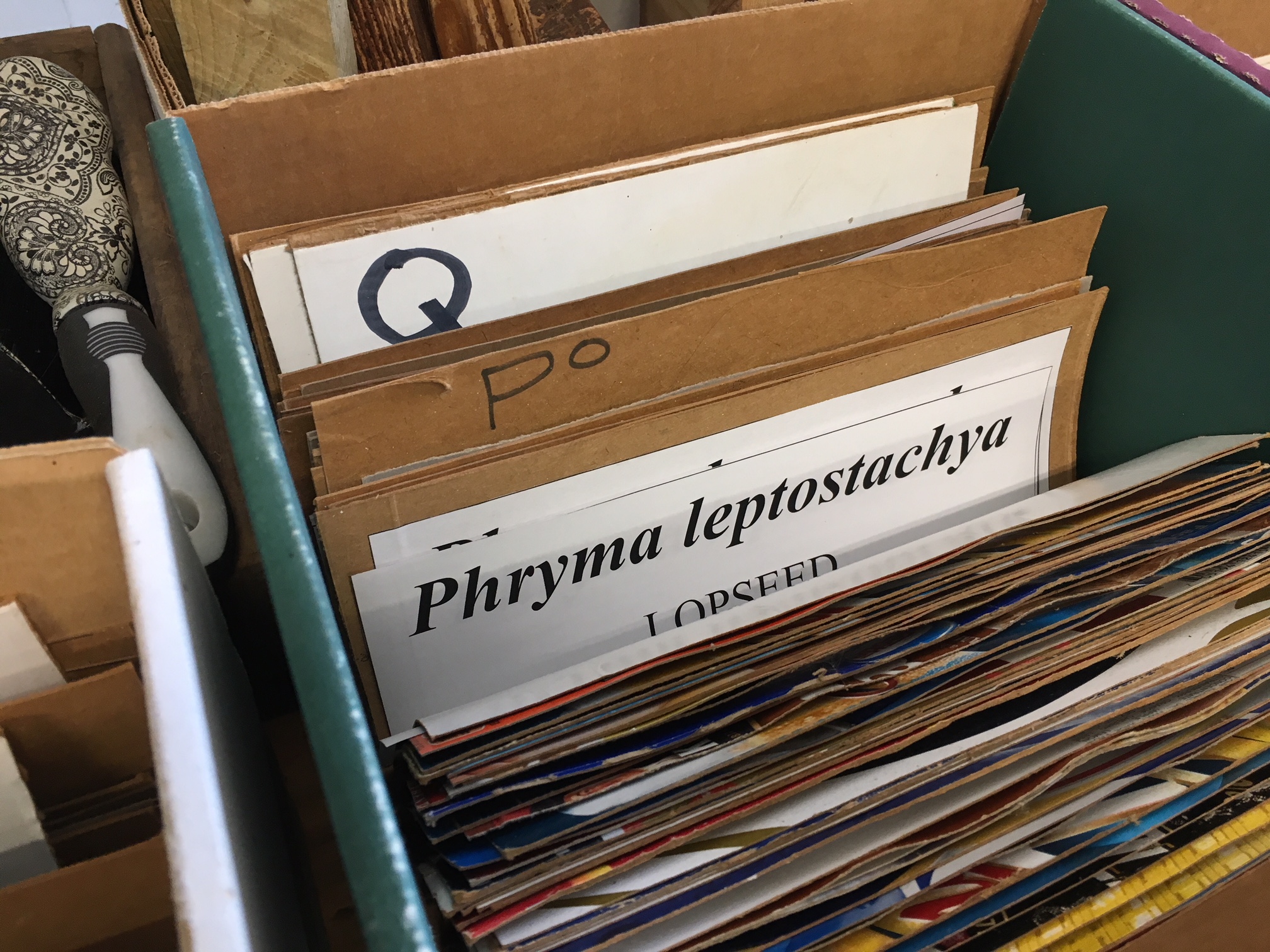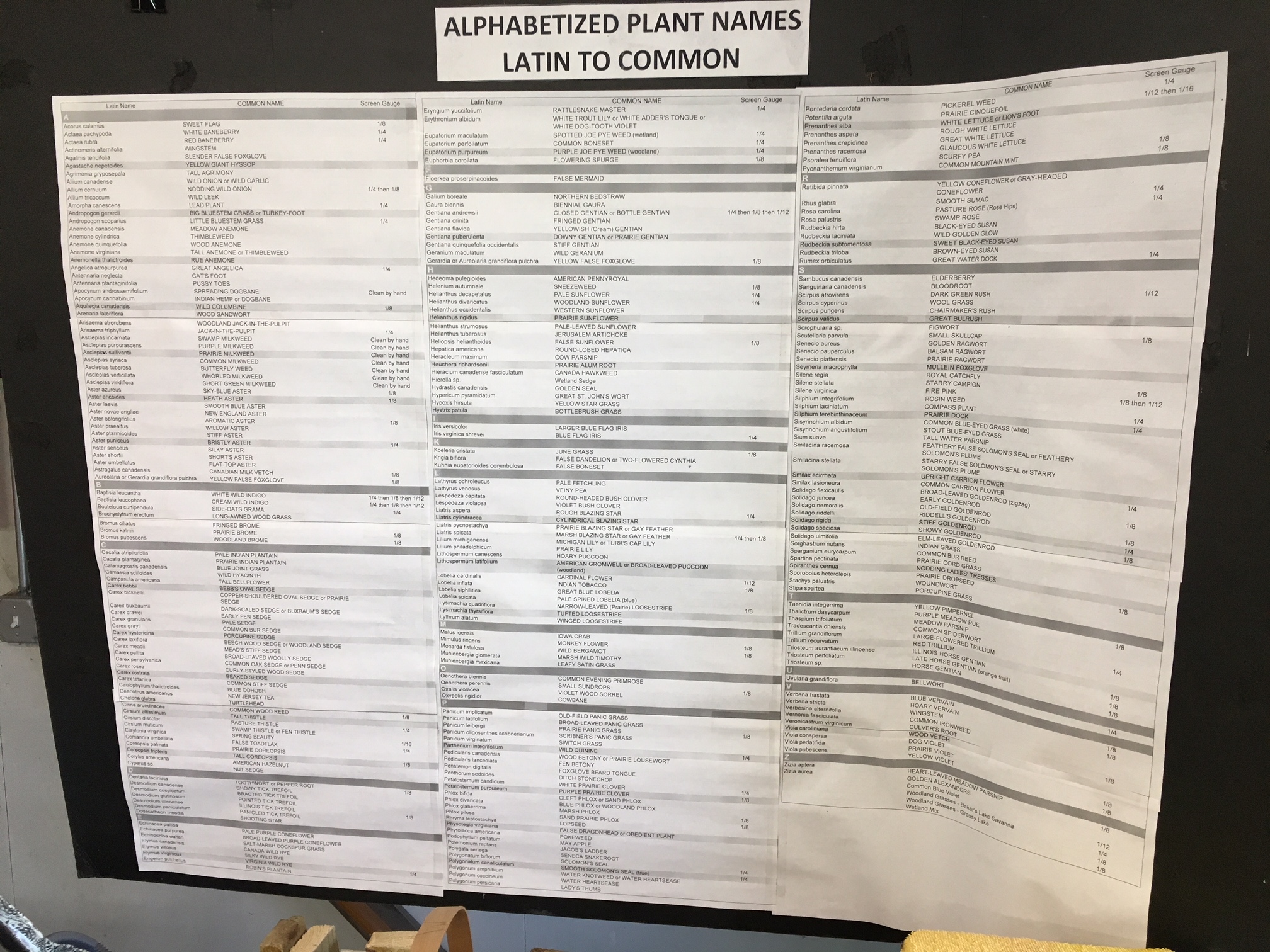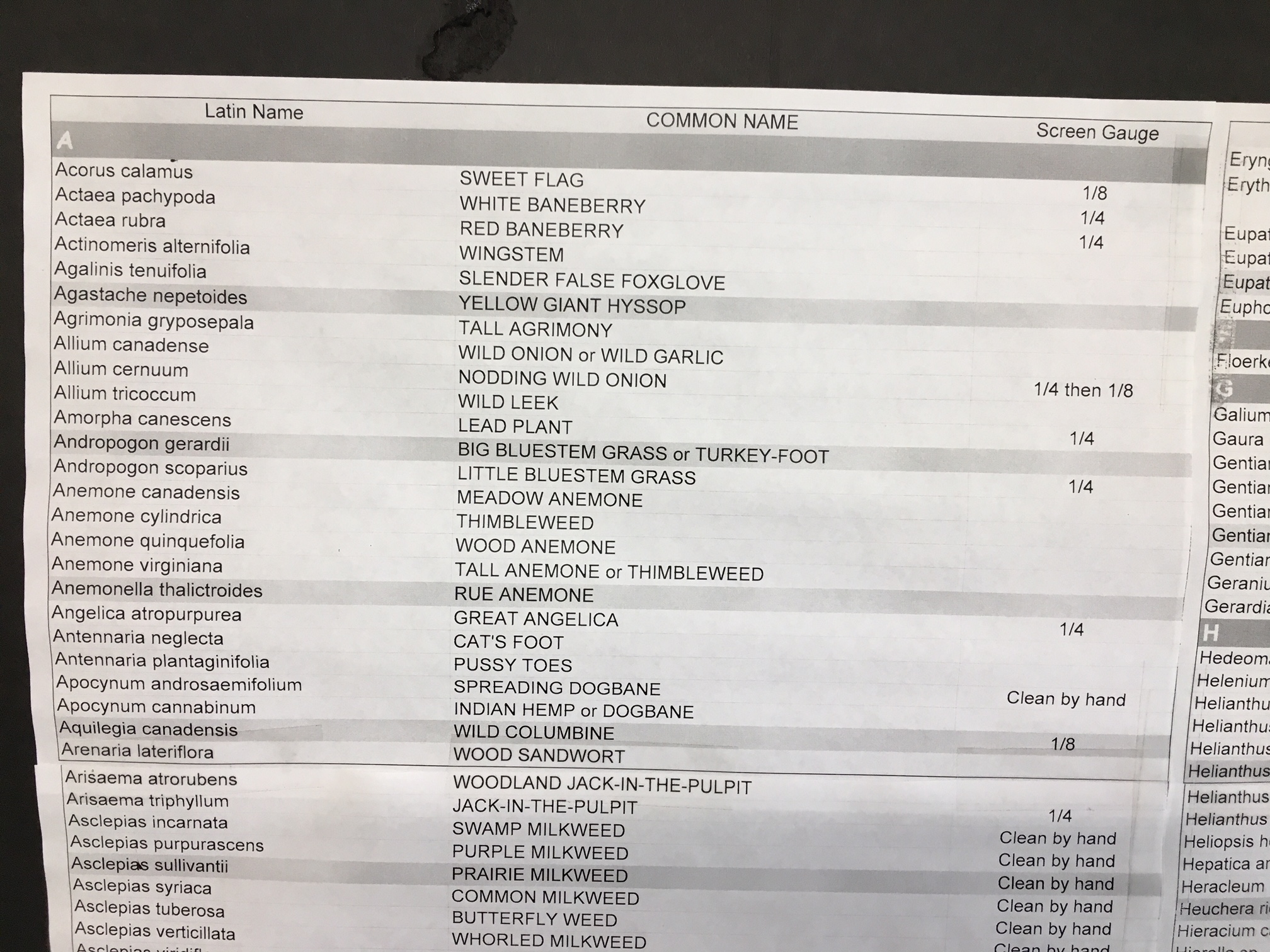 He added, "our teams of volunteers go out and collect seeds from hundreds of native species from local remnants or from our own propagation beds and bring them back here for processing." This procedure entails removing excess sticks, leaves, insects, and other debris by hand to get the seeds as clean as possible.
Tom and Justin then led the way downstairs to the propagation beds outside, where they were growing prairie wildflowers, grasses, and wetland sedges and rushes in over a dozen raised propagation beds. Each bed was lined with railroad timbers and filled with various soil mixtures. A sand mixture was used for species that typically grow in local sand savannas whereas other beds were lined with plastic and filled with water to hold species that grow in wet prairies and marshes.
In some beds the plants were growing in stratified arrays with tall species such as Tall Coreopsis (Coreopsis tripteris), New England Aster (Symphyotrichum novae-angliae), and Missouri Ironweed (Vernonia missurica) protruding above White Wild Indigo (Baptisia alba var. macrophylla) and Rattlesnake Master (Eryngium yuccifolium). Below these tall- and mid-statured plants, short species such as Yellow Flax (Linum medium var. texanum) and Lousewort (Pedicularis canadensis) were growing, alongside small panic grasses (Dichanthelium leibergii) and sedges (Carex glaucodea). The beds were designed such that volunteers could walk around them easily, reaching and harvesting various species by hand, similar to the way one picks berries.
Tom explained that CFC's army of volunteers work throughout the year, logging hundreds of man-hours, continually harvesting seed from the raised beds and collecting from nearby prairie remnants [they also do myriad other tasks]. These seeds are harvested mostly by hand and some with the aid of mechanical harvesters. Once brought back they are spread on tarps and trays in the barn and stored for a period of time in dry, low-humidity conditions in the loft. Some that are wild-collected in relatively small amounts are brought back and sowed in the propagation beds to help increase their numbers.
In the late fall and winter, CFC volunteers gather for mixing parties during which hundreds of pounds of seed collected throughout the year are mixed into more than a dozen specially-designed seed mixes, each containing dozens or in some cases 100+ species. They have mixes developed for dry sand prairies in full sun, wet prairie swales, partially-shaded sites under semi-open oak canopies of woodlands/savannas, and rocky sloping grasslands. In some Midwestern regions, such as Indiana's Kankakee Sands Preserve, these specially designed, high-diversity, end-of-year seed mixes can yield hundreds of millions of seeds and chaff weighing in excess of 1-2 tons. Although the CFC's seed mixes are smaller, they are still super diverse. When applied to restoration sites, these seeds help to swamp out competing weed seeds and greatly expedite the restoration process.
Lesson 1: The takeaway lessons from the morning visit to CFC's headquarters revealed the importance of grassroots conservation efforts. Such efforts need to be community-based, but it is also important to have a home base where diverse groups of people can gather to work together, to receive training, and to be with like-minded people. It is important to note that this base of operations is more than just a place to store materials or as a training facility, but it is essentially a community center, a place where multiple generations can work side by side, from ages 9 to 90, and where people of different educational and ethnic backgrounds can come together for a common goal that is vital to building healthy communities.
Part 2 of 6 - Bringing chicago-style conservation to the southeastern u.s.
visit to spring creek prairie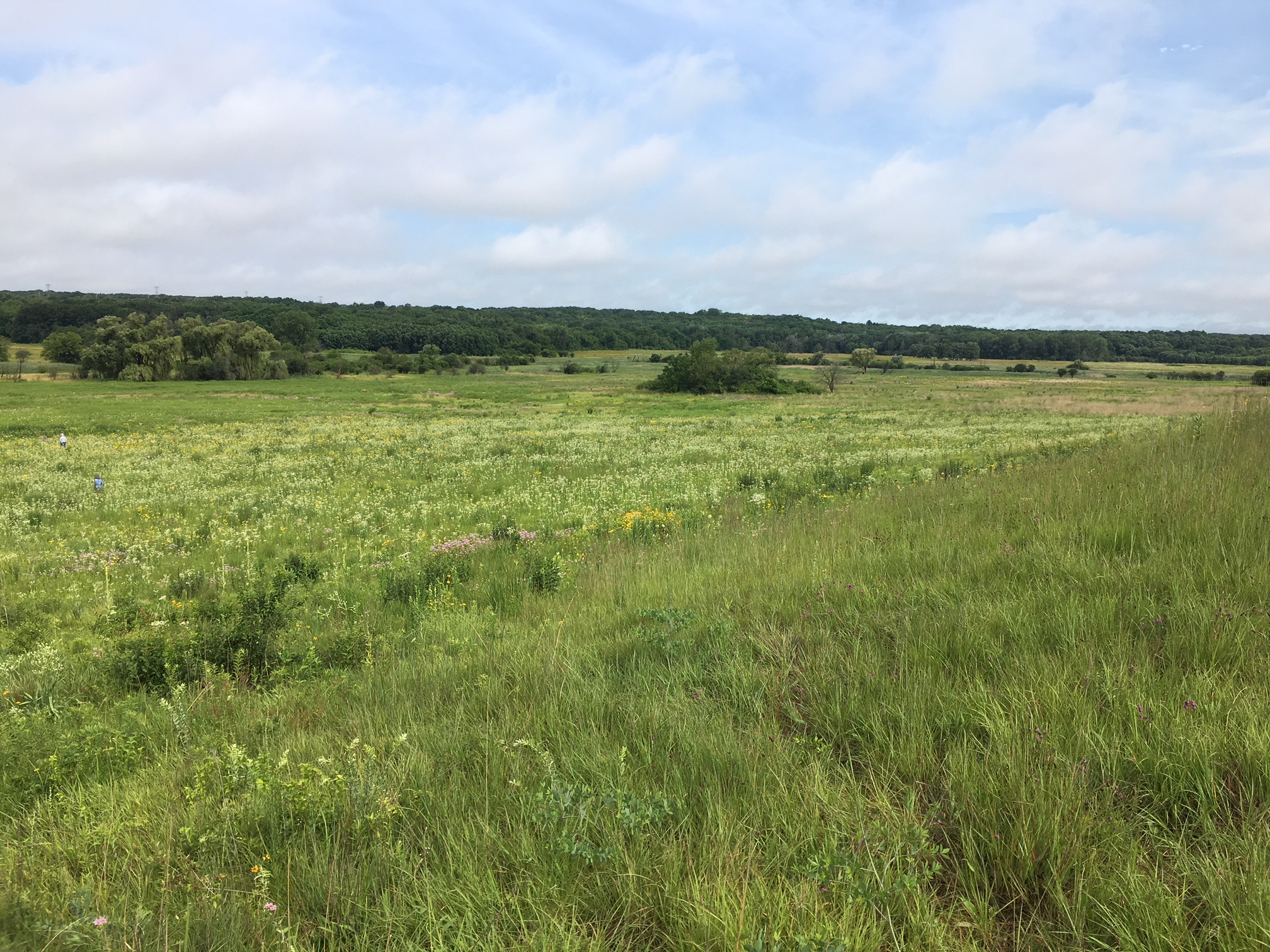 Lesson 2. Bringing Chicago-style conservation to the southeastern U.S.
There's more to grassland restoration than "Native Warm Season Grasses" and "Pollinator Mixes." SGI aims to bring Chicago's unique restoration approach to the Southeast to revolutionize approaches to restoration.
After touring CFC's headquarters, we drove a few miles away to Spring Creek Prairie. The scene was one of sheer beauty and not something I expected in the sea of Chicago suburbia. The prairie appeared as an expansive meadow in a broad stream valley, with the grasses and showy wildflowers extending out of the broad bottomland into the surrounding uplands.
Volunteers were arriving in a carpool behind me as I stood there at the edge of the valley looking downslope at the butterflies and busy little songbirds darting from one wildflower patch to another. I talked to a few of them as they gathered near the prairie's edge. Nearly all were retired and some had been engineers, accountants, business owners, and school teachers, but not one of them had been employed as a professional conservation worker, biologist, naturalist, or researcher.
One lady in particular mentioned that she had been volunteering for nearly 40 years. She pointed at the prairie below us and said, "I remember not so long ago, probably when you were just a small child, when this whole area was a forest covered with invasive species...just look at it today."
Justin explained that the forest that once covered the bottomland had been severely infested with European Buckthorn (Rhamnus cathartica), an invasive shrub that now is a serious pest throughout the Midwest and Northeast. Now in its place were scattered Bur Oak (Quercus macrocarpa) and a beautiful restored prairie. Some forest still existed and the volunteers assured me that they would continue to chip away, too, and eventually the whole valley would be returned to the way it was in the mid-1800s before the invasion of the prairie by trees as a result of fire suppression and loss of bison.
The team soon began to walk single-file down the prairie slope because the objective of the day was to hand-pull the invasive White Sweet Clover (Melilotus albus) which threatened to spread and get out of control in the prairie if left unchecked. I fell in line and was eager to work alongside them and hear more of their stories and to learn from Tom. As we walked, I admired the gorgeous display of Purple Prairie Clover (Dalea purpurea) that graced the hillside but was just going out of flower. Justin explained that this little patch of hillside prairie was all that remained of Spring Creek Prairie up until about 30 years ago before they started clearing the forest.
It was incredible to see how such a small group of people over the course of a few decades could expand a tiny prairie to the scale of a few hundred acres. Most of the species were brought back using locally collected seeds, cleaned and processed back at the barn, and then brought here and hand-dispersed by CFC's volunteers.
Once we reached the restored bottomland prairie, something down low caught my eye. I crouched and parted a bunch of Big Bluestem (Andropogon gerardii) and Wild Quinine (Parthenium integrifolium) to get a better look at a tiny herb only five inches tall. "Wow! You guys thought of everything, didn't you? I can't believe y'all deliberately added Small Skullcap (Scutellaria parvula) to the seed mix!" Justin smiled and nodded as I tried to contain my excitement. I couldn't wait to see what other details lay in store for me to discover in these rebuilt Chicago prairies.
I was shocked to learn that the preferred method of sowing seeds at Spring Creek is to sow seeds of dozens to 100+ species directly into an existing thatch of non-native cool season grasses using a technique known as overseeding. According to Tom, they have had great success seeding directly into patches dominated by Queen-Anne's Lace (Daucus carota), Smooth Brome Grass (Bromus inermis), Orchard Grass (Dactylis glomerata), and Timothy (Phleum pratense).
In contrast, back home in the South, prairie restorations usually involve the planting of only a handful of species, such as the big four "native warm-season grasses" or NWSGs (Big Bluestem, Little Bluestem, Indian Grass, Gama Grass) as they are often called, or low-diversity pollinator mixes of 10-20 species. These mixes, almost as a rule, are sowed with a no-till drill into a thoroughly prepared planting bed such as a retired crop field or hayfield, or a former pasture treated with herbicide. Certainly these techniques are more practical in many situations due to their practicality, cost, and relative speed with which they can be established. Still, there are many places in the South where the Chicago-style approach would work well, especially on publicly accessible lands near or in urban centers.
Lesson 2: My second lesson of the trip was the realization that I couldn't think of a single place in the Southeast (perhaps with exception of south Texas) where grasslands were being restored to such an amazing quality. I left Spring Creek Prairie inspired and determined that SGI can and will find a way to bring these Chicago-style methods to the Southeast where so many of our grasslands have been driven to the brink of extinction and must be rebuilt from scratch. These methods would not necessarily replace existing proven methods but would serve to complement them or be used in combination.
Part 3 of 6 - if we rebuild them, they will come
lessons from grigsby prairie
Lesson 3. If we rebuild them, they will come...
Many rare species that are in severe decline throughout their ranges are rebounding in the Chicago area thanks to the increase in high-quality grassland conservation efforts. Let's bring similar efforts to the SGI focal area.
After our visit to Spring Creek Prairie and a brief lunch we drove a few miles away, through an upscale suburban landscape, to a smaller restored prairie known as Grigsby Prairie. Just a few weeks prior I had heard about this site from my friend, Philip Juras. Philip is an amazing oil painter with a passion for painting grasslands. For years he has been traveling from his home in Athens, Georgia to Chicago to paint the area's prairies and savannas and has completed more than a dozen paintings from the region.
As we walked a loop through the prairie, Tom pointed out a small dull-colored bird popping from one shrub clump to another. "That's Henslow's Sparrow," he whispered. At 6'3" tall, I move ungracefully through a prairie and I have to remind myself to tone down my loud Southern voice, especially when in the company of birders like Tom and Justin. So, I quieted my excited chatter to avoid scaring these rare birds from their perch.
I knew this species was in decline across its range, but Justin informed me that Henslow's Sparrow is "on the upswing in the greater Chicago area due to the spike in prairie restoration efforts in the past few decades" led by CFC volunteers. Taking but a few steps, we saw a second rare animal--the Baltimore Checkerspot--a butterfly that, like the sparrow, somehow had navigated the seemingly endless sea of suburbia, manicured lawns, fields of non-native grasses, crop fields, forested blocks, and pavement, to find, miraculously, this little re-created wildflower oasis.
Visiting this little prairie with Tom and Justin was inspiring. If we replicate the unique approach being used in Chicago in places like Raleigh-Durham, North Carolina where the vast grasslands disappeared largely by 1750 or the rapidly vanishing Blackland Prairies east of Austin, Texas, then we can reverse the tide of grassland biodiversity loss in the Southeast.
Lesson 3: This visit to Grigsby Prairie taught me my third lesson. As we walked back to the car, I couldn't help but think of the 1989 movie, Field of Dreams, and I said aloud, "if we rebuild them, they will come." But importantly, it's not just about planting "native warm season grasses" and it's more than planting a pollinator-friendly mix to attract Monarchs, to truly curb the erosion of our grassland biodiversity we must strive to re-create and restore more species-rich grasslands across the South with the utmost care and attention to detail that our friends in Chicago have been doing for decades...and it's working!
Part 4 of 6 - urban or wild, either will work just fine
visit to somme prairie
Lesson 4. Urban or wild, either will work just fine
Efforts in the greater Chicago area prove that great grassland restoration can happen both in rural areas and in the heart of one of the nation's largest cities. SGI aims to bring similar approaches to dozens of communities across our 23 state region, including Austin, TX and Charlotte, NC.
By the time we left Grigsby Prairie, it was getting past 3:00 p.m. and Tom needed to part ways. Unfortunately, we could not have known that our visit with Tom would be our last. Just a week later, I learned that he passed away peacefully in his sleep. The world lost a special person in Tom Vanderpoel. I only knew him for a few hours that one day and the impression he left upon me and our developing organization and the lessons he unknowingly taught me are things I will carry with me as I attempt to grow and lead the Southeastern Grasslands Initiative. I only wish I could have known Tom longer and that I could have been mentored by him.
After saying goodbye to Tom, Justin called up Stephen Packard to see if he would be up for an impromptu late afternoon visit. Soon we were driving through a quaint neighborhood on our way to Stephen's house. Some of the lawns were shaded with large Bur Oaks, whose heavy spreading crowns and knotty boles indicated to me that the area was once covered in Bur Oak savannas. Philip's painting below suggests what Stephen's neighborhood likely looked like prior to settlement.
Up ahead I saw one yard that stood out at a distance. I could see coneflowers, sunflowers, compass plants, and prairie grasses stretching from the front door to the sidewalk. I knew that must be Stephen's house.
For a while we sat and visited in his living room, eating fresh cherries. I told him about SGI and that the reason I came to Chicago was to see firsthand the conservation and restoration efforts he had spearheaded. He took us back a few decades with a nostalgic tale about how up until the 1970s many people thought that most of the remnants were gone.
While it is true that more than 99.9 percent of the region's original prairies have been eliminated, that didn't stop Stephen and his friends from scouring the land in search of tiny bits that remained. They found little vestiges in old cemeteries, along rural roadbanks, sandwiched between highways and adjacent railroads, or occupying spots too rocky or wet to cultivate. "These tiny remnants that we were rediscovering became the seed source for most of the restorations in the region including those you've seen today at Grigsby and Spring Creek, but," he added, "perhaps the best restoration that you have yet to see is Somme Prairie, a few blocks away."
Although I was tired from having arrived into town about 3:00 a.m. the night before and was running on just a few hours of sleep, I knew I had to see Somme Prairie. We hopped in the car and drove a few blocks away and parked along the curbside of Meadow Road in a 1960-70s-era suburban neighborhood. "Where's the prairie?" I asked incredulously. Stephen pointed towards a four-lane highway about 100 yards down the street.
As a pretty decent ecologist, I pride myself on being able to spot prairie and savanna remnants, yet there was nothing I could see from where we parked that gave me any notion that we were about to see what Stephen described as one of the best prairie restorations in the Midwest.
When we got to the intersection I expected to see bunch grasses, wildflowers, something, but all I could see was the highway and a wall of trees on the other side. "Watch for cars," Stephen warned as he started across the highway. Justin and I followed eagerly.
On the other side we weaved our way through head-high vegetation along what resembled a game trail. Stephen dipped through a gap in the thicket. My tall frame ducked and dodged tree limbs and briers. From the highway I had mistaken it for a dense forest, but when I finally got through the wall of vegetation after only a few yards, I straightened my back and lifted my head. The passing cars just 50 feet away now seemed barely audible against the chattering and chirping sounds of songbirds and the rattling of the tall grasses and wildflowers waving in the breeze. This was Somme Prairie.... I felt as though I had stepped into the Garden of Eden.
Stephen proceeded to give me a brief overview of the site, explaining that 30 years ago it had been a dense, brushy thicket. He and a dozen volunteers from the community began a long-term, sustained effort to restore Somme. You can hear Stephen tell this story by watching his TedX Talk titled "Nature is Counting on Us."
As he gave me an overview of the site, I interrupted occasionally to ask a question about a new plant I spotted. I was like a kid in a candy store and I could hardly contain my excitement. To Justin, my exuberant, clambering style must have contrasted sharply with Stephen's quiet, soft-spoken ways.
"Whoa Stephen, is that such and such? Wow. Did it come back after removing the brush or did you have to reintroduce it?" He assured me that most of what I was seeing had been brought back using locally harvested seeds because most of the original seedbank had been depleted in the decades that the site lay shrouded in forest. When they began their restoration, they found the site still had several of those ancient bur oaks but the rich diversity of grasses and forbs that centuries ago dominated the ground floor were gone.
Stephen seemed pleased to be in my company for he could see that as a professional botanist with an expertise in high-quality grassland communities that I just couldn't believe my eyes. I couldn't believe that what I was seeing had been almost totally rebuilt with seeds from more than 450 species. As Stephen's TedX Talk reveals, they even have been successful in restoring populations of the Eastern Prairie Fringed Orchid (Platanthera leucophaea), one of the rarest orchids in the eastern U.S., whose white flower stands out almost like a ghost to remind us of the past.
As we wound our way through the trail system at Somme, I enjoyed testing Stephen. We stopped at one point a couple dozen yards ahead of a low, wet swale. I said, "now if I were in a totally natural remnant I would expect to walk up to that swale and see a whole suite of species [I rattled off a short list of those I most expected]." I was dumbfounded when as we approached it I found them all, right as I had predicted and growing intermixed as if they had been there for hundreds of years. The same happened several more times as we hit various microhabitats such as shrub thickets, wet meadows, and dry oak woodland. They even had found ways to restore short grasslands, which really blew me away.
Lesson 4: My fourth lesson of the day came from brief visit to Somme Prairie. In addition to being inspired beyond belief, I learned that even in the middle of dense urban areas, it is possible to rebuild grassland communities such that, even though they can never return to their original condition, they can be re-created in such a way as to fool professionals into believing that they are natural remnants. That is a very difficult thing to do and is a true testament to the quality of the restorations of the Chicago area and to Stephen's leadership and vision. SGI is currently working near downtown Nashville with several partners with the intent of restoring approximately 350 acres of grassland on a new 900 acre city park. Somme Prairie proves that we don't have to escape the city to rebuild something incredible.
PART 5 OF 6 - the sky is the limit
lessons from nachusa grasslands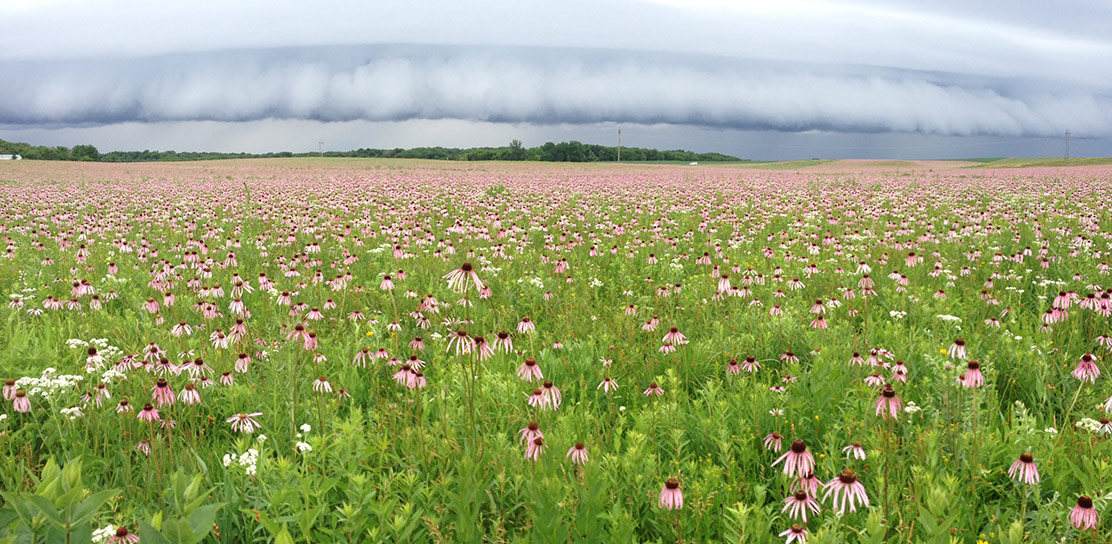 Lesson 5. The sky is the limit
The Chicago-style methods of restoration can be applied to sites smaller than 1 acre or they can be scaled up to cover several square miles. It can be done in the Southeast as well and SGI will lead the way. Let's dream big and find a way to rebuild grasslands that stretch to the horizon.
On Day 2 of my trip, I traveled two hours west of Chicago to the Nachusa Grasslands managed by The Nature Conservancy. My host at Nachusa was Cody Considine, a restoration ecologist for TNC. We hopped in his pickup truck and he drove me out across the vast expanse of rolling prairie so beautifully captured by Philip Juras's paintings. Nachusa happens to be one of his favorite places to paint and after my visit I certainly can see why.
This 3,700 acre re-created tallgrass prairie has Bison roaming across 1,500 acres. I could not believe that when I was just five years old, in 1983, that this rich prairie that spread before me to the horizon had been rolling fields of corn and that almost everything I was viewing had been rebuilt, except for a few hilltop natural remnants in rocky soil.
Astonishingly, many of the same methods used to rebuild small-scale prairies in the Chicago suburbs were used to rebuild Nachusa. As we toured the site, it was neat to round a corner and find a small group of seven or eight volunteers harvesting seeds of prairie plants in some remote corner of the preserve. Even though Nachusa is two hours from Chicago, they still have a strong team of local volunteers who show up faithfully to help ensure that Nachusa thrives for decades to come. This provides hope that in more rural areas of the Southeast, such as eastern Arkansas's Grand Prairie (down from 500,000 acres historically to now just 375 acres) or south Georgia's remnant chalk prairies.
Cody explained how their team of volunteers are empowered and entrusted to take on leadership roles. For example, one husband and wife volunteer team has "adopted" a few acres of Nachusa. Under this model, they assume something akin to ownership of their small plot. After receiving some up-front training and instruction when they first started years ago, they now manage and plan all of the activities on their plot. This means they collect seeds from it, they help to control invasive plants, they choose which species to re-seed, and then they work to spread seeds using the overseeding method.
Undoubtedly, a lot of people might be uncomfortable with allowing non-professionals to take on such leadership roles, but after seeing it in action, I am convinced that this is an important and overlooked strategy that we must adopt for managing certain areas. The key is providing proper educational training on the front end.
Lesson 5: The fifth and final lesson I learned from my whirlwind Chicago tour is that high-quality grassland restoration driven by empowered and trained volunteers can absolutely be scaled up from tiny remnants of less than acre to tracts covering several square miles...it can be done...and it will be done.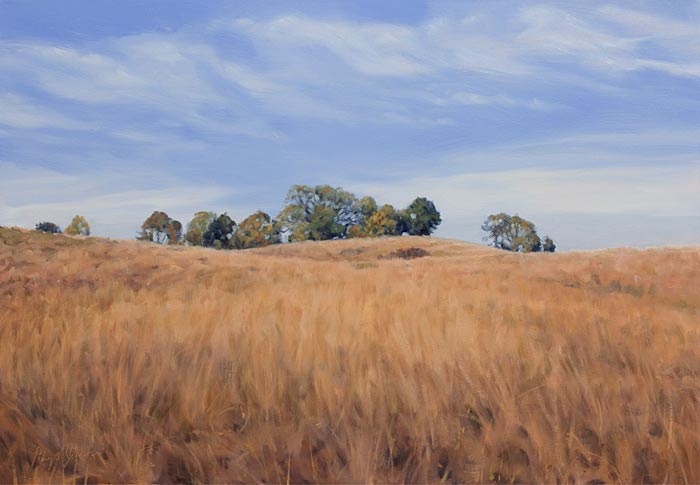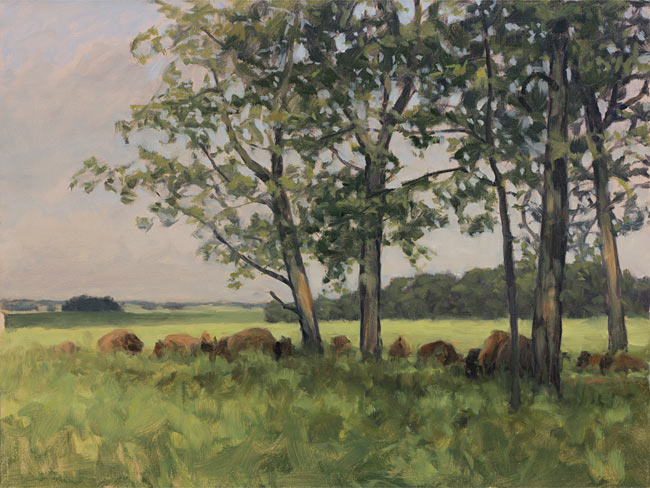 PART 6 OF 6 - sgi needs your help, here's how
We called, you answered: At the beginning of 2018, we put out a call for volunteers to join our team and the response has been amazing. Now, six months after the official launch of our organization, it warms my heart to announce that more than 400 volunteers have pledged their support. Collectively, you represent all 23 states and more than 60 communities. Thank you for taking that first step of signing our registry. Help us recruit new volunteers by sharing our message with friends, family, and colleagues.
A brief explanation of our model: We believe that community-led conservation is vital to saving our vanishing southeastern grasslands. Major financial investments are critical to large-scale conservation efforts across broad regions (e.g. purchasing large properties, restoring thousands of acres) and to providing core infrastructure (e.g. staffing, equipment, resource) needed to guide those efforts. However, so many of the remaining grasslands of the southeastern U.S. are small and it can be difficult to justify to philanthropic foundations, corporate sponsors, and government agencies (who may want "more bang for their buck") why funding small-scale grassland conservation is important. Unfortunately, many of these small remnants are all that is left for some types of grassland ecosystems and we simply can't turn our backs on them. These types of grasslands, those that are small, hard to manage, located in or near urban areas, in need of frequent attention, are especially well-suited to volunteer-led efforts like those we have studied in Chicago.
The Chicago-style model of conservation proves that grassroots, community-led approaches work and indeed the best grassland restorations seem to be those that are largely volunteer-driven. This model requires strong communication, organization, and coordination at local and regional scales. It must be guided by science and work prioritized according to threats, opportunities, and need (similar to emergency room triage). SGI's Grassland Advisory Committee will help to identify and prioritize conservation needs both throughout the 23-state focal region and within each ecoregion.
Local Coordination: First, we are asking for people who are willing to commit time each week to serving in a volunteer leadership/coordination role as a steward. Stewards will help to cultivate and guide a team or multiple teams of volunteers that will work at the local level on one or more projects.
Individual team members (Volunteers) can choose the role that best fits them (see roles below). For a small town, one steward and a few dozen volunteers may be sufficient. In larger cities multiple stewards and hundreds of volunteers may be needed. Stewards and volunteers will mostly work on projects within 30 min to 1 hour of of their homes.
Regional Coordination: At larger statewide and regional scales, SGI will hire Coordinators who will work with multiple stewards across many communities and often across state lines, usually within ecoregions (colored polygons in the accompanying map). The coordinators will assist in training, outreach, finding and securing resources, soliciting help from other NGOs, agencies, and experts, and will circulate around the region to assist with on-the-ground projects, working side-by-side with volunteers and stewards.
Am I a suitable volunteer for SGI? Whether you are 9 or 90, a city-dweller or wild child of the wilderness, a high-school dropout or a doctor, and no matter if you live on the coast, the mountains of Appalachia, or on the plains of central Texas, SGI has a role for you. To sign up as a volunteer just click the button below and don't forget to share with your friends.
Am I suitable as a steward for SGI? If you are a person who enjoys leading by example, performing a variety of tasks, and have strong leadership skills (e.g., good at motivating, inspiring, organizing, planning, delegating, communicating, and most importantly DOING)--then you might have just what it takes. So far we have had 12 people who have indicated they want to be a steward, but we need more. Potential stewards should carefully consider if this is something they have time and the desire to do. If you are ready to commit then we need you! Once committed, we ask you to commit to one year of service for starters, with the option to continue beyond that. Click the button become a steward.
Click on each icon below for more information about each volunteer role.
Do you need help selecting a volunteer role or roles?
We are working to put into place a series of volunteer roles that will appeal to a broad swath of the public. For starters, we've listed several questions below to help you identify the specific role or roles you'd like to play.
Enjoy studying, observing, or photographing wildflowers, birds, butterflies, etc.?
Biodiversity Documentation
Enjoy growing native plants or farming?
Conservation Horticulture, Farming Natives.
Interested in how technology or geographic information systems (GIS) can benefit grassland conservation?
Interested in science or data analysis?
Do you want to do something that is physically challenging? Like getting dirty, hot, and sweaty?
Invasive Species Removal, Management, Restoration
Like working in a large group setting?
Seed Collecting, Invasive Species Removal, Management, Restoration, Data Entry, Herbarium Work, Rescue
Rather work alone or in small groups?
Biodiversity Documentation, Data Entry, Herbarium Work, Historical Research, Mapping
Do you have special skills as a fundraiser, connector, teacher, public speaker, artist, marketer, graphic designer, videographer, photographer, etc.?
Advocacy, Connector, Teaching, Speaker Bureau, etc.